The CCEF Annual Apple Awards Program
Local education foundations receive:
Each year, at the CCEF Annual Conference, Apple Awards are given to local education foundations for outstanding projects that can be replicated by other California education foundations. Awards are given in the following categories:
Apple Award for Publications & Communications
Apple Award for Programs & Outreach
James Howard Apple Award for Fund Development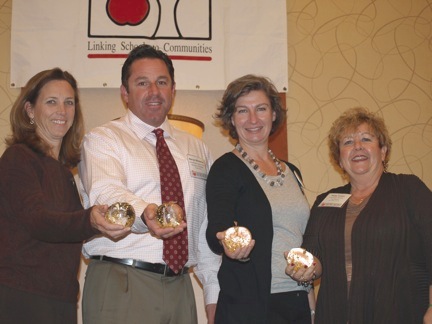 CCEF 2010 Apple Awards recognize outstanding achievement by education foundations.
The deadline for submitting nominations for this year's Apple Awards Tuesday, Mar 6, 2013.

For information about the program contact Susan Sweeney at:
Phone: 650-324-1653
Fax: 650-326-7751
Address:
PO Box 19290 Stanford, CA 94309
Email: ccef@cceflink.org
For the 2012-13 Apple Award Nomination Form click here.


Previous Apple Award Recipients
For a complete description of each of these Apple Awards, or LEF contact information, please email CCEF.
2010 CCEF Apple Award Recipients
Get on the Bus! Campaign (Claremont Educational Foundation)
I'm in! Campaign (School-Force – the Belmont-Redwood Shores Public Education Foundation)
Collaborative Professional Development (Menlo-Atherton High School Foundation)
Summer School Enrichment (Pasadena Educational Foundation)
Comprehensive Revisioning & Outreach (School Power –Laguna Beach Education Foundation)
All Schools Directory Collaboration (Coronado Schools Foundation)
Special Mention:
Bringing Philanthropic Awareness to Future Generations (Redlands Educational Partnership)
A Project-Based-Learning Workshop (International Polytechnic Education Foundation)
2009 Apple Awards
BCE Mail Program (Burlingame Community for Education)
Health, Wellness, Fitness Program (Shady Creek Outdoor Education Foundation)
Healdsburg Education Summit (Healdsburg Education Foundation)

Honorable Mention:
Community Campaign (Menlo Park-Atherton Education Foundation)
Preschool Outreach Program (San Carlos Educational Foundation)

2008 Apple Awards

Smarter Giving for Everyone and Save Our Teachers Now! (Palos Verdes Peninsula Education Foundation)
The Eddy Currents in Santa Cruz Education (Santa Cruz Education Foundation)

2007 Apple Awards

Using the Internet to Increase Participation (Menlo Park-Atherton Education Foundation )
Pledge Day (Hillsborough Schools Foundation)
Making the Case Using Benchmarking (Palo Alto Partners in Education)
Spring Challenge Grant (San Carlos Education Foundation)

2006 Apple Awards

Annual Report Celebrating 25 Years (Moraga Education Foundation)
School District & Library Media Collaboration with Verizon (Palos Verdes Peninsula Education Foundation)
Education Matters: A Community Partnership for Success (Tahoe Truckee Excellence in Education Foundation)

Honorable Mention
Parent Volunteer of the Year Recognition Program (Irvine Public Schools Foundation)

2005 Apple Awards

Internship Program (Anderson Valley Education Foundation)
Communications - Business Support with Family Directory, Parent Giving Brochure, and Foundation Profile DVD (Kentfield Schools Foundation)
Class Size Reduction Program (Santa Cruz Education Foundation)

Honorable Mention
New Teachers Welcome (Albany Education Foundation)
Fall Family Festival & Flea Market & Superintendent's Community Lunches (New Haven Schools Foundation)
Alvanzando Familias ( Santa Ana Education Foundation)

2004 Apple Awards

Irvine Public Schools Foundation (IPSF) The program recognized is the annual "Big Idea Meeting" which brings together leaders of the Irvine business community, local state and federal elected officials, PTA leaders, parents, school personnel, students and the board of trustees for dialogue and creative thinking exercises focused on the key issues affecting education and the Irvine Unified School District. For more information contact CEO Tim Shaw at tshaw@ipsf.net

Menlo Park-Atherton Education Foundation (MPAEF) The award recognizes the MPAEF's Strategic Social Marketing Communication Program. More information at: mpaef.org

Pasadena Education Foundation The award recognizes the PEF program "Parade of Banners" which is a public information outreach effort in September and October of each school year to encourage business support for the public schools and to acknowledge the schools' current business and community organization partners. Contact pefpasadena@hotmail.com

2003 Apple Awards

IPSF School Site Ambassador program (Irvine Public Schools Foundation)
The program was developed to improve the relationship and communication between IPSF and schools. Over the years, the Ambassador program has become instrumental in keeping schools connected both with the school district and foundation activities. School Site Ambassadors are representatives from individual schools who serve as liaison to enhance communication between IPSF and local school sites.

Foundation Ambassadors (Menlo Park-Atherton Education Foundation)
Foundation Ambassadors—one in every classroom at the four schools in the Menlo Park City Elementary School District—help to communicate the focus of the MPAEF this year to increase participation among parents in the mission of raising money for essential programs

"Magnifying Science" Communication Campaign (Palo Alto Foundation for Excellence)
The award recognizes the PAFE which used digital technology to create a DVD as the centerpiece in the PAFE Science fundraising campaign. PAFE interviewed teachers on video as a way of giving them an opportunity to tell their stories to the widest possible audience of potential donors.
2002 Apple Award

Open Doors (Huntington Beach Education Foundation)
The 2002 Apple Award was presented to the Huntington Beach Education Foundation for its collaboration with the Huntington Beach Art Center in producing "Open Doors" and educating community members who were not connected with schools. Congratulations Huntington Beach!

2001 Apple Awards

Father-Child Read-A-Thon (Chaparral Education Foundation - Poway)
A fundraising program to support literacy. In this program children collect sponsorship money from family and friends for participating in the read-a-thon. They then meet at the school with their father to read together and enjoy free milk and cookies.

REPresenting our Schools Art Project (Redlands Educational Partnership Foundation)
A fundraising project where note cards are produced using artwork from students. The proceeds are used to fund Enrichment Plus for the Arts in each school.

Integrating the Arts into the Curriculum via Standards (West Contra Costa Public Education Fund)
An initiative to support artist teacher collaborations to jointly create innovative lesson plans that support academic standards.

2000 Apple Awards
Sustaining Donor Program (Albany Education Foundation)
By introducing a successful sustaining donor plan the AEF was able to increase fundraising and move the acquisition of funds to a different time of year making it easier to plan expenditures.

Building Character One Value at a Time (Chaparral Education Foundation - Poway)
Introduced a "Do Your Best" campaign with the objective of encouraging students to measure their success according to their effort rather than by comparison to classmates.

Foundation Impact Awards (Foundation for the Future - Atherton)
Instituted a monthly morale booster award program open to all faculty and staff, not just teachers.

Touchdown for Technology (Huntington Beach Educational Foundation)
An annual fundraiser for school technology.

Musical Instrument Rental program (Irvine Public Schools Foundation)
The program gives students the opportunity to participate in the districts Instrumental Music Program by renting musical instruments at a reasonable rate with the proceeds going directly to the music program.

Bells and Books of Knowledge (Santa Monica-Malibu Education Foundation)
Expanded fundraising efforts outside the core school community to embrace local corporations, foundations and the general public through the creation of 15 art sculptures.